Preparation
This tutorial will show you how to use OneKey Card onAlipay. Before starting the tutorial, you need to register and activate the OneKey Card account. If you don't know how to and use OneKey Card, you can read this article: https://help.onekey.so/hc/zh-cn/articles/6762124467343
Safety Precautions
Read the following precautions carefully before starting the tutorial:
Please make sure that the entered information matches theOneKey Card provided, including spaces in the name.
Please try to bind during normal business hours (9:00-21:00). If you bind in the middle of the night with an error warning, please try again during the day.
During the binding process, you may see the following prompt: "The current operation may be risky. To ensure the safety of your funds, Alipay has interrupted this operation, please change to another bank card". Please make sure the card information is correct (including the billing address). Also, try to bind again on the business hours, if it still doesn't work, please refer to this tutorial to release the risk control:

https://help.onekey.so/hc/zh-cn/articles/6797958433039
Bind Alipay
On the OneKey Card's home page, enter the Google verification code and verify the information of card number, expiration date, security code, billing address and other related information.
Open Alipay, click "My" - "Bank Card".
Click "+" to add a bank card.
Enter OneKey card number.
Enter the OneKey Card name, expiration date and security code. It is recommended to enter the billing address of the OneKey Card to increase the success rate of the binding.
Binding is complete, start using
.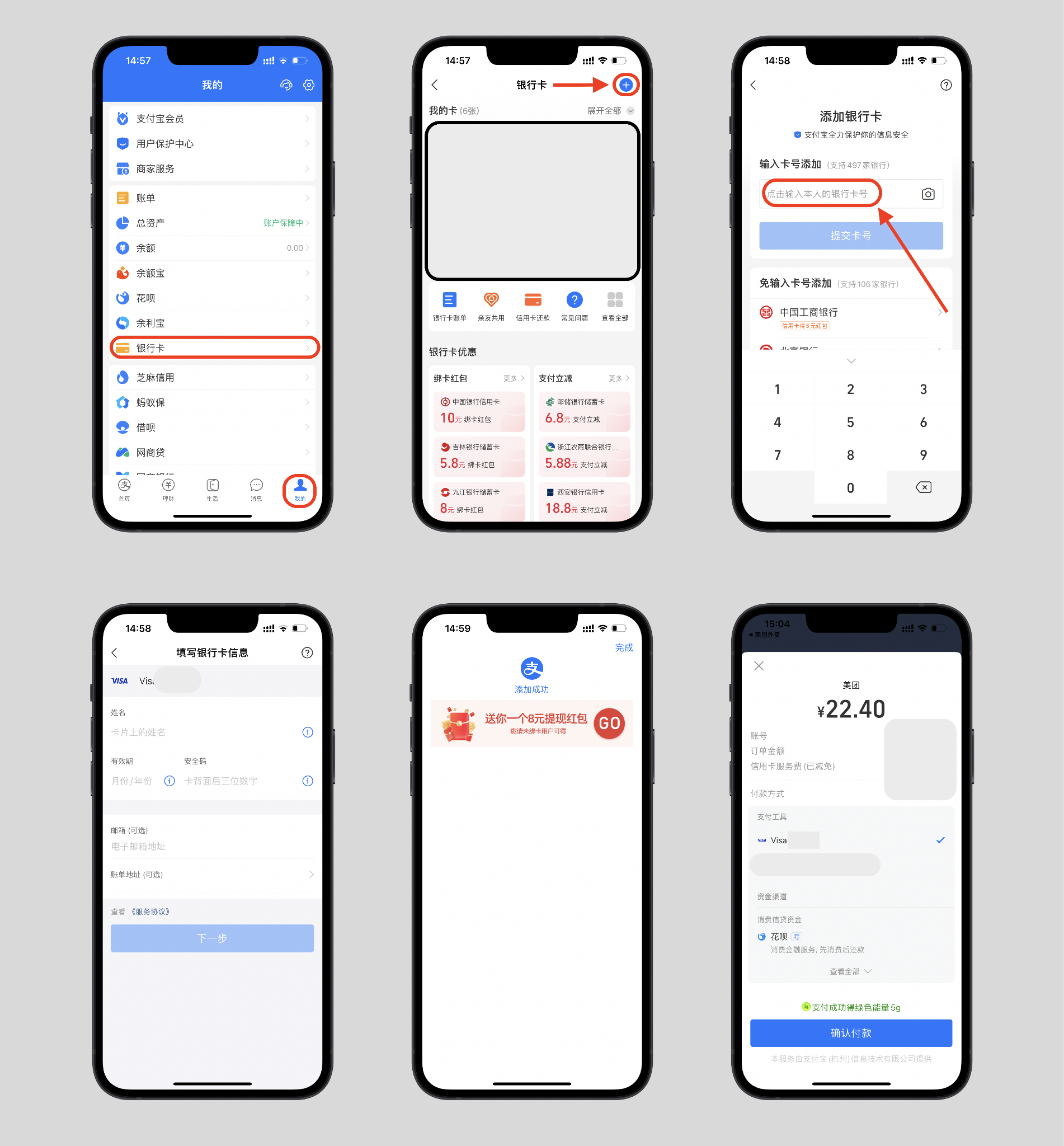 Instructions for using Alipay Overseas Cards
You may encounter such prompts during use:
「Payment failed, please use another payment method or try again later」
「The bank has reported that this card is not supported at this time, if you have any questions please call the bank's customer service」
This type of prompt is sometimes a temporary risk control. If you can use this tutorial to remove the risk control:

https://help.onekey.so/hc/zh-cn/articles/6797958433039

The Alipay risk control is to t prevent fraudulent brushing. When you - the risk control, you can directly connect with Alipay customer that you are using a virtual card . After submitting the relevant information, usually the customer service will release the risk control for you. If the customer service does not handle it correctly, you can apply for risk control release again.
Overseas cards on Tmall and Taobao, but only for physical goods (excluding mobile phone bills), air tickets and air ticket insurance.
The purchase of second - hand goods, pre-sale goods and Tmall Global transactions do not support the use of overseas cards.
- When buyers use VISA, MasterCard, JCB cards to pay on Taobao Tmall, Alipay will uniformly charge 3% of the transaction amount as a service fee (regardless of whether it exceeds RMB 200).
Alipay's foreign card payment limit is generally 3,000 RMB per transaction, and Alipay will charge a 3% processing fee if it exceeds 200 RMB.
If "This payment method does not support the current transaction" is displayed during payment, it means that the merchant does not support overseas card payment.
For more information on using overseas cards, please refer to Alipay's official documents:
Alipay: https://cshall.alipay.com/lab/help_detail.htm?help_id=253689&catId=238006
Taobao: https://world.taobao.com/helper/knowledge.htm?kid=20015810
Alipay Risk Control Rules Reference
Alipay's risk control rules are very complicated. If you often encounter risk control when using OneKey Card, the following information may help you to avoid risk control as much as possible.
Note: The following information is collected from the Internet and does not represent official opinions. It is for your information only:
Do not make 3 consecutive transactions (including failed transactions) within 30 minutes. The time interval between two transactions should be more than 5 minutes, the transaction amount should not be the same and should not be close to the limit.
During non-normal business hours (21:00-9:00 the next day), try to avoid large transactions.
Do not place multiple orders for the same amount. The transaction amount should be different for different transactions.
The amount of a single transaction should not be an integer, the tens and ones should not be zero, and the three numbers should not be the same.
The total number of transactions on a single card in a single day should not exceed 3, and the percentage of failed transactions should not exceed 30%.
The amount of a single transaction should not be too large, otherwise risk control may be triggered.